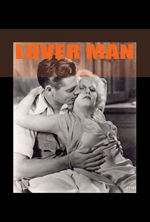 1986, USA, Narrative, Black & White, 19 minutes
Directed by:
P. David Ebersole
Written by:
P. David Ebersole
Starring: Jane Ray, E.D. Phillips, Sharon Walsh, Helen Hanft
Cinematography by: Richard Gioia
Edited by:
P. David Ebersole
Music by: Pyotr Ilyich Tchaikovsky, Billie Holiday, Marlene Dietrich, John Denver
Summary: The story of a bargirl in a brothel who believes her roommate Linda has stumbled upon true love with a customer who frequents the bar but never sleeps with any of the girls. On Linda's 30th birthday, the customer owns a car so he drives her away from her hard life in New York for a break, and ultimately puts her a train back to her home town. Their relationship remains platonic, but the bartender believes he is her "Lover Man."
Film Festival Premieres: WORLD PREMIERE Chicago International Film Festival (October 19 1987) • EAST COAST PREMIERE New Jersey Film Festival (1987)
Awards: NEW YORK UNIVERSITY Best Film, Best Director, Best Cinematography (Richard Gioia), Best Actress (Sharon Walsh) • CHICAGO INTERNATIONAL FILM FESTIVAL Silver Plaque – Short Subject • NEW JERSEY FILM FESTIVAL Jury Award