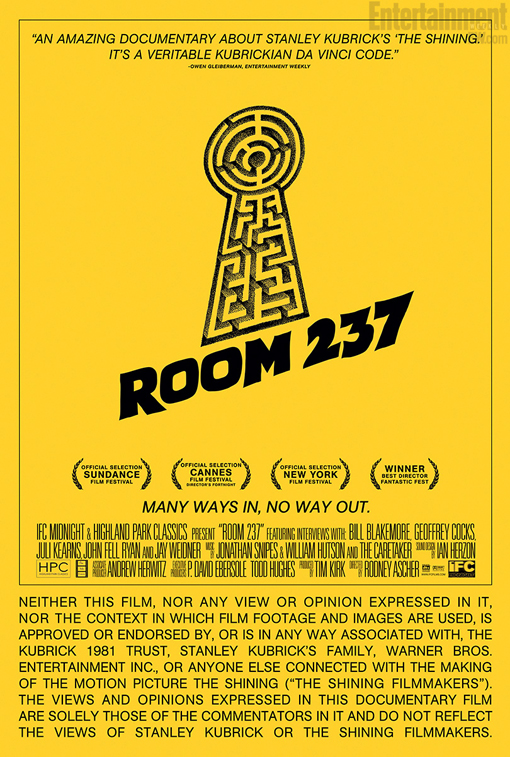 2012, USA, Documentary, Color, 102 minutes
Directed by: Rodney Ascher
Executive Produced by:
P David Ebersole & Todd Hughes
Starring: Bill Blakemore, Geoffrey Cocks, Juli Kearns, John Fell Ryan, Jay Weidner
Music by: Jonathan Snipes, William Hutson
Summary: A subjective documentary that explores the numerous theories about the hidden meanings within Stanley Kubrick's film, The Shining (1980), which decades after its release continues to inspire debate, speculation, and mystery. Five very different points of view are illuminated through voice over, film clips, animation and dramatic reenactments. Together they'll draw the audience into a new maze, one with endless detours and dead ends, many ways in, but no way out.
Film Festival Premieres: WORLD PREMIERE Sundance Film Festival (January 23, 2012) • INTERNATIONAL PREMIERE Cannes Film Festival: Director's Fortnight (May 21, 2012) • NORTH AMERICAN PREMIERE Toronto Intl Film Festival (September 6, 2012) • NEW YORK PREMIERE New York Film Festival (October 4, 2012) • UK PREMIERE London BFI Film Festival (October 13, 2012) • LOS ANGELES PREMIERE AFI Fest (November 2012)
Release: UK THEATRICAL & HOME VIDEO 101 Films October 26, 2012 • US/CANADA THEATRICAL & HOME VIDEO IFC Midnight (March 29, 2013) • FRANCE THEATRICAL & HOME VIDEO Wild Bunch Distribution (June 19, 2013) • GERMANY THEATRICAL & HOME VIDEO Rapid Eye Movies (September 19, 2013) • JAPAN THEATRICAL & HOME VIDEO Broadmedia Studios (January 25, 2014)
Awards: AUSTIN FANTASIC FEST Best Director Rodney Ascher (2012) • INTERNATIONAL DOCUMENTARY ASSOCIATION (IDA) Best Editing (2012) • VILLAGE VOICE FILM POLL Best Documentary Feature Film: 5th Place (2012) • INDIEWIRE CRITICS POLL Best Documentary: 4th Place (2012) • GOTHAM AWARDS Best Documentary nominee (2102) • CINEMA EYE AWARDS Four Nominations for Outstanding Achievement: Debut Feature Film, Editing, Original Music Score, and Graphic Design/Animation (2012)